Police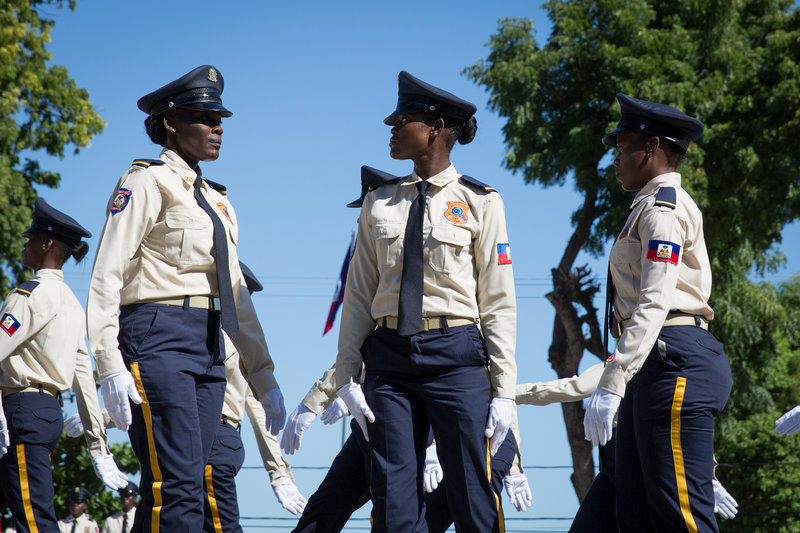 MINUJUSTH focuses on the institutional and professional development of the Haitian National Police (HNP), within the framework of the HNP Strategic Development Plan 2017-2021.
During the two-year timeframe of the mission, MINUJUSTH supports key priorities set out in the Strategic Development Plan, in particular:
Provide supervisory mentoring and strategic advice to senior and middle-level HNP management on leadership, investigation skills, gender mainstreaming and SGBV services.
Mentor and assist the HNP to build capacities in police administration, in the areas of reform and restructuring, planning, human resources, information and facilities management, transport, logistics, engineering, telecommunications, budget and finance.
Support the development and implementation of community-oriented policing strategies, to build HNP trust among local communities, and of training programs to help prevent illegal or arbitrary, detention or excessive use of force.
Promote HNP effectiveness and accountability mechanisms, helping extend its authority beyond Port-au-Prince.
The implementation of these priorities will go hand-in hand with the implementation of transition strategies, which will look at potential partners that can accommodate residual support needs beyond MINUJUSTH lifespan.
MINUJUSTH Police Component will continue to support HNP's efforts to ensure public order and to respond to security challenges within the country:
MINUJUSTH has seven Formed Police Units with 980 officers from six countries - Bangladesh, Jordan, India, Nepal, Rwanda and Senegal
They are positioned in five regions of the country to safeguard the gains of the past years through operational support to the Haitian National Police.
The FPUs conduct joint field patrols to help give the Haitian national Police greater visibility but to also deliver "on-the-job" skills training to HNP officers.
MINUJUSTH Police Component supports national security tactical planning including joint operations, to foster institutional strengthening and task transfer.
Pages