Prisons Overcrowding: MINUJUSTH supports Correctional Facilities' Improvement in Haiti
Prolonged pre-trial detention is one of the causes of prison overcrowding in Haiti. According to the country's Correctional Facilities Administration, about 74% of male inmates were imprisoned without being tried in a court of law. The figures are even worse for women (82%) and girls (95%).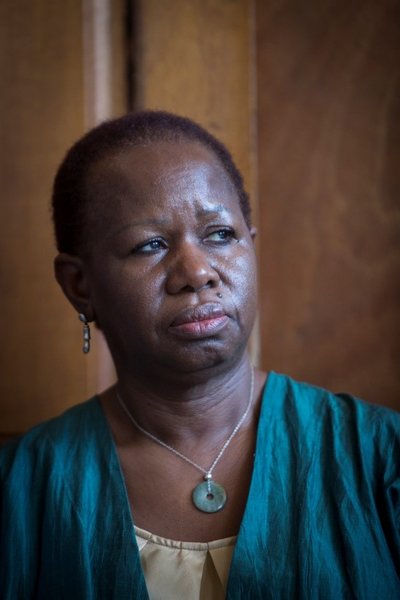 During her official visit to the United Nations Mission for Justice Support in Haiti (MINUJUSTH), the Assistant Secretary-General for Peacekeeping Operations, Ms. Bintou Keita visited Jeremie's prison, which houses 304 inmates. Only 51 of the prisoners (20%) have been tried in a court of law. The situation deeply affected Ms. Keita: « I was shocked by the conditions faced not only by the inmates, but also by the prison staff ».
For Ms. Keita, the certification of prisons to enhance their performance according to international standards is one of the key priorities for the work of the United Nations in partnership with Haitian authorities: « There must exist political will so that MINUJUSTH can work together with the nation to advance this agenda. »
For the next two years, MINUJUSTH will focus on nine detention facilities to create reference centers, which will serve as a model to gradually certify other prisons in the country. These efforts will be carried out in coordination with national authorities and the 19 UN agencies, funds and programmes in Haiti.
The rule of law is central not only to achieve the 17 Sustainable Development Goals, but also to advance Haiti's ambition to become an emerging country by 2030. The UN family will continue to support the country in its engagement to build a better future for this and generations to come.
A Mission Centered on the Rule of Law
Among other issues, the United Nations carries out projects focused on the promotion of human rights, HIV prevention, child protection and violence prevention—particularly against women—in prison settings. The goal is to reduce inmate's vulnerability and promote their health and wellbeing in Haitian correctional facilities.
Pre-trial detention is often longer than the penalty prisoners would receive if considered guilty in a court of law. This leads to a superpopulation in detention centers.
According to international standards, the space for each inmate should be of 4.5 m2. In Haiti, however, this space is usually limited to 0.5 m2 (World Prison report, 2016). The lack of space leads to serious human rights violations: poor living conditions, health issues, disease and malnutrition. Women and children, especially girls, are the most vulnerable.
This is one of the reasons why the UN Security Council entrusted MINUJUSTH with the mandate to support national authorities' efforts to reform the rule of law in the country. The Mission aims to promote and protect human rights, emphasizing the importance of access to justice, respect to legal procedures and correctional facilities structural support including issues such as superpopulation, hygiene, access to services and visits.
UNAIDS highlights the Importance of HIV Prevention in Prisons
UNAIDS Haiti supports the project Health through Walls. The aim is to improve health and services provided to the inmate population. In collaboration with the country's Correctional Facilities Administration, the project helps screen all inmates as soon as they are admitted, assessing health conditions and identifying health issues, including tuberculosis (TB).
Counseling and screening are carried out after sensitization and voluntary agreement by the inmates. A complete set of integrated HIV/AIDS prevention and care interventions are put in place so that each prisoner can access the services available. After their release, a system of referrals for antiretroviral (ARV) therapy and TB treatment ensures the continuity of care.
From 2016 to 2017, more than 19,533 inmates were examined and tested for HIV and 1, 156 were under ARV treatment. UNAIDS continues to advocate so that no one is left behind, reminding that prisons are a high-risk environment, mostly due to the lack of prevention and the presence of particularly vulnerable populations.