High-level mission discusses future of UN presence in Haiti
A United Nations high-level delegation led by the Under-Secretary-General for Peace Operations Mr. Jean-Pierre Lacroix and then by the Assistant Secretary-General for Political Affaires Mr Miroslav Jenča, conducted a Strategic Assessment Mission in Haiti from 16 to 20 January. The goal of the mission was to prepare the end of peacekeeping operations in the country and meet with Haitian authorities to discuss the future UN support to Haiti.
The delegation, composed of high-level officials and diplomats from Europe, Latin America and the Caribbean, held meetings with President Jovenel Moïse and Prime Minister Jean-Henry Céant, as well as key Haitian ministers and other authorities, including parliamentary and police leaders, private sector representatives, civil society organizations and political parties representatives. During the meetings, the delegation consulted the national authorities on their views about the UN presence in Haiti, achievements and expectations for the future.
"For the last two decades, Haiti made significant progress for its stability and development, Mr Lacroix underlined. There is a general consensus that a United Nations peacekeeping operation is no longer needed in the country."
The delegation also held discussions with Core Group members, the Economic Forum, International Financial Institutions and UN Agencies, Funds and Programmes representatives in the country to assess advances and challenges in Haiti.
The assessment, requested by Security Council resolution 2014, reflects a UN system-wide effort. After the visit, the delegation recommendations will be presented to the Secretary-General, Mr. Antonio Guterres, and included in his next report for the consideration of the Security Council, which is expected to take a decision in April 2019 on the renewal of the mandate of the UN Mission for Justice Support in Haiti (MINUJUSTH) and the configuration of the UN presence in the country beyond October 2019, when the Mission is slated to end.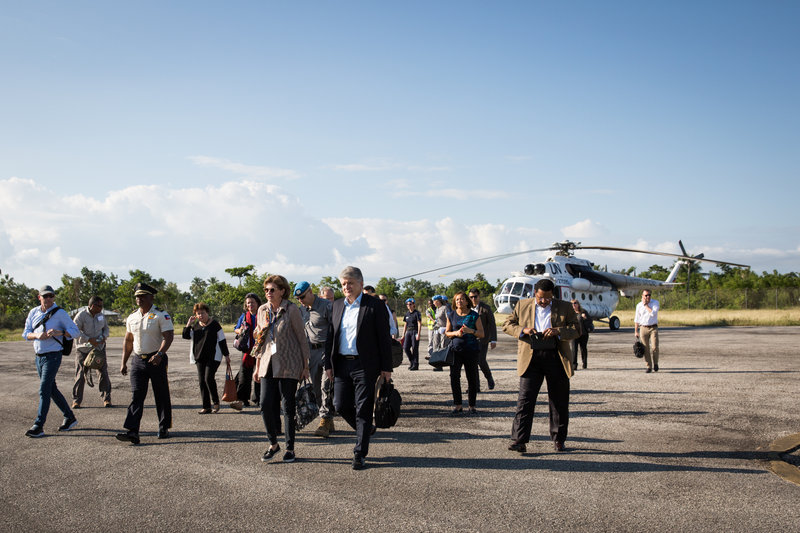 Besides Port-au-Prince, the delegation also visited Les Cayes, a commune in the South department and one of Haiti's major ports. At Les Cayes, the delegation visited the Haiti National Police Maritime Base, the Police Commissariat and the civil prison to see the advances achieved in terms of security, such as increased police presence, and existing challenges, such as prison overcrowding.
The delegation members also included UN Assistant Secretary-General for Europe, Central Asia and the Americas, Mr. Miroslav Jenca and UNDP Director for Latin America and the Caribbean, Mr.  Luis Lopez-Calva; UN Women Deputy Executive Director, Ms. Asa Regner; UN High Commissariat for Human Rights Chief for the Americas and Europe, Mr. Jose Maria Aranaz; Sustainable Development Unit Director in the UN Deputy Secretary-General's Office, Ms. Michelle Gyles-McDonnough; and representatives from the Office of Special Envoy for Haiti and other United Nations Secretariat offices.